On Making A Good End
Tuesday, November 17, 2009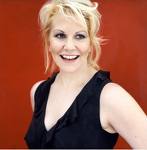 More than any other recitalist I've experienced lately, Joyce DiDonato has far outstripped the rest in terms of knowing how to make a good end.

It wasn't just the mezzo-soprano's encore choices that touched the audience last night at Herbst Theatre in San Francisco, though they made for a magical sign-off. A showy Rossini ("Tanti Aaffetti In Tal Momento" from Donna Del Lago) aria followed by "Somewhere Over the Rainbow" don't sound like great choices. They seem like they'd be tacky, frankly. But DiDonato brought such good-natured feist to the Rossini and understated empathy to the Arlen-Harburg standard that these choices came over as the perfect way to send people home.

DiDonato is also masterful at ending individual songs in a powerful way. The conclusion of a couple of songs in a suite by the late 19th/early 20th century Spanish composer Fernando Obradors were particularly magical. In "Con amores la mia madre" the final cadence spiraled into the air like a butterfly taking off from a flower. "Del cabello mas sutil" ended with a gasp.

In every single piece, the performer demonstrated absolute and spell-binding control over her final note, sometimes decrescendoing incrementally to absolute silence over what seemed like an eternity, and at other times going out with a mighty bang or puff of smoke. She never fizzled.

It's no wonder that the Herbst audience -- normally so well versed in traditional concert hall etiquette -- didn't know quite what to do with itself after every song. There was often a breathtaking silence, followed by applause, even in the middle of a series or suite of songs.

When DiDonato finally exited after her final encore, she left her bouquet of flowers on stage. Just like the bouquet, the memory of her final notes lingers in my heart and will continue to do so for a long while hence.