Crowdsourcing...A Drinking Song
Wednesday, June 5, 2013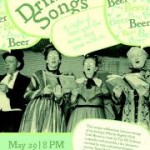 Wednesday evening saw the latest incarnation of Drinking Songs: A Night Of Beer And The Music That Goes With It, an interactive live event that pairs beer tastings with specific songs as a means to tell the story of the close relationship between beer culture and singing culture through the ages.

I produced and hosted the event, a collaboration between VoiceBox, my weekly public radio and podcast series about the human voice, and Dogfish Head Craft Brewery, an artisanal beer maker based in Delaware.

Our singers are an awesome bunch of mostly ex-Chanticleer members who call themselves The Fill-A-Steins for our purposes. And we have a fascinating beer cicerone on hand to talk about the ale end of things -- Sayre Piotrkowski of The St Vincent Tavern in San Francisco.

Drinking songs lend themselves particularly well to audience participation. Usually we have opportunities for audience members to join in with the singing (they also get to taste a variety of Dogfish Head Beers.)

This time around, we had a new partner, Smule, that helped make the event even more interactive. Smule is a Silicon Valley-based company that develops music-making apps like Magic Piano, I Am T-Pain and Ocarina. On Wednesday during intermission, we used a whizzbang app called MadPad to crowdsource a drinking song with anyone who wanted to participate in the packed bar of around 200 people. Smule's Turner Kirk (aka the Mule) went around the room asking for members of the crowd to contribute snippets of song and other sound effects which he captured using the MadPad app on his iPad.

MadPad saves nuggets of audio and video which can then be rearranged at the touch of a button into an instant "music video." The product of our tipsy collective imaginations can be seen here. The track includes foot stomping, jangling keys, clinking steins and comely sung phrases like "raise your glass and drink it down" and "beer, beer, beer, beer."

At the start of the second half of our program, we showed off our crowdsourced drinking song on a big screen on stage. The whole thing took about 15 minutes to create from start to finish and it made me (and I think quite a lot of other people who were at 50 Mason Social House on Wednesday night for our event) very, very happy.

Finally, here is a 5-minute video capturing the spirit of the entire event. With thanks to Rachel Hamburg, Rebecca Hsu and Jake Wachtel.